Our futures calls service continued to deliver this week with another 3 out of 3 winners Thursday morning, bringing the total for the week to 8 winners out of 10 triggers. I'd like to focus on one of today's calls from an educational perspective, which was an NQ using a key Value Area level in a unique way.
Typically, in the futures and Forex markets, we use Value Areas for entry the first time of the day that the Value Area is breached. However, that doesn't mean that the levels can't be useful later in the session, particularly if the number is addressed by the market. Let's go through four charts that outline today's NQ call in 1-minute bars. In the early action, the NQ opened above the light blue (cyan) Value Area High line and breached into the Value Area at A: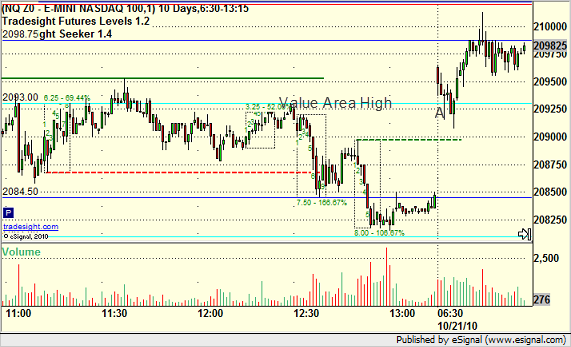 This was not a trade call that we made. However, about 15 minutes later, the market again address the Value Area High level almost exactly and bounced off of it: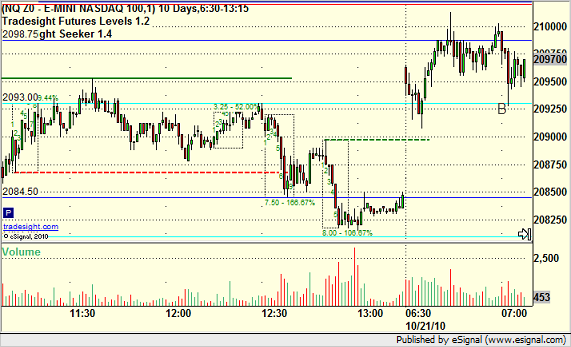 This means that the market has once again identified this key Level, which we had coming into the session, as support or resistance (in this case, support). From there, we made a call that is good for the rest of the day, which was to sell short the NQ at 2092.50 with a stop over 2095.50 and a first target to cover half at 2088.50.
More than an hour later, the NQ came back and again EXACTLY addressed the Value Area High level at point C on this chart: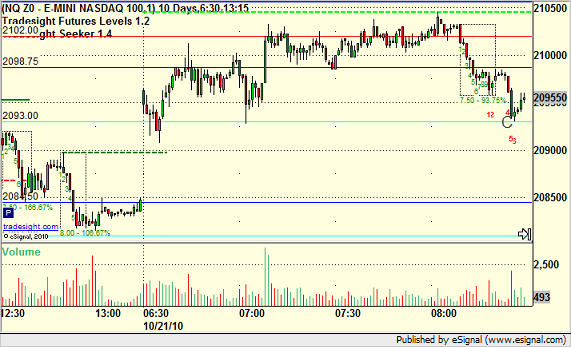 These are the types of trades that you don't want to miss if they trigger, and here's how it went once it did: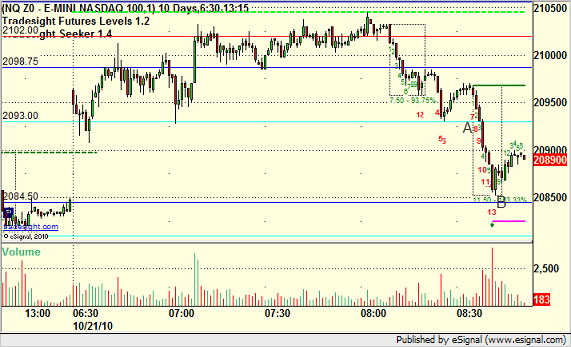 The move from A (trigger) to B (around S1) was more than enough to hit our first target and adjust our stop on the second half of the trade. Note that the low was also called precisely by the 13 count off of our Tradesight Seeker tool.
As usual, you can get a two week trial of the calls. Come back this weekend for the launch of our brand new website, Tradesight 4.0!