Almost every trading session begins with some degree of a price gap. Depending on overnight news, the performance of overseas markets, and many other influences, markets tend to gap from session to session. Small price gaps tend to fill very quickly, usually in the first third of a trading day. Larger gaps tend to take longer to fill and gaps that are big enough will have to wait until subsequent trading days to fill.
So when is a gap large enough that it won't fill in the same trading day? Tradesight is launching an enhancement to our Levels service that will give traders objective levels to determine the probability of a gap fill or gap and go environment. The Levels will be automatically plotted on the futures that we follow. There will be an upper Pressure Threshold and a Lower Pressure Threshold.
When price gaps but is contained between the Upper Pressure Threshold (UPT) and Lower Pressure Threshold (LPT), the expectation is that the gap is not large enough to stay open and will fill during the current trading session. However, when price gaps beyond the Pressure Threshold then the gap is significantly large enough to stay open for the entire session.
On Tuesday 3/13/12, the ES futures gapped above the Upper Pressure Threshold which defined that the gap was large enough not to fill in the current session. Not only did the gap not fill but the objectively plotted level was key support when price broke under the opening range and was threatening to make the gap fill move. The gap fill never happened and traders that were aware of the key level were empowered to stay on the long side of the tape for a spectacular afternoon explosion in price as short scurried to cover.
Below is the 15 minute chart of the ES futures with the Upper Pressure Threshold (UPT) shown as a bold green line: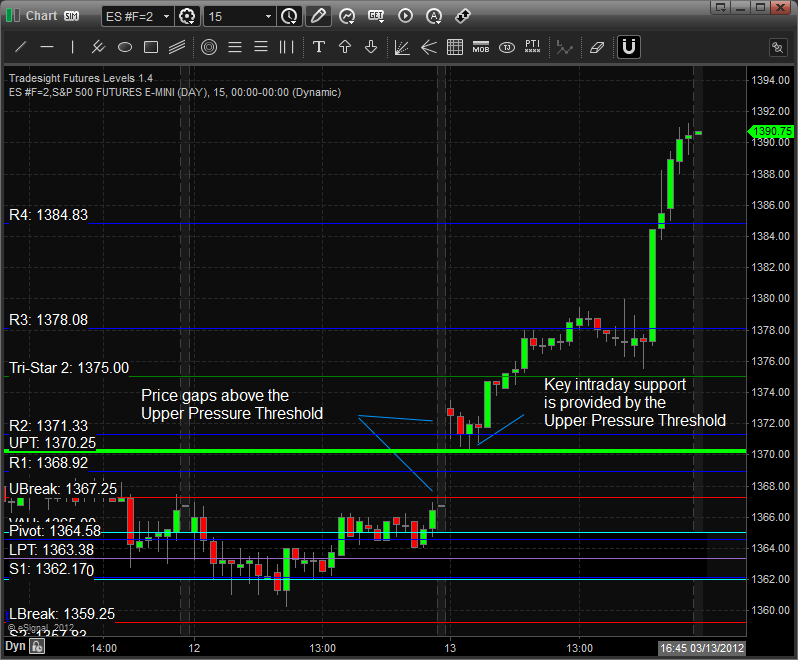 You can learn more about how to use this key Level and many others in this weekend's all-new Tradesight Futures Levels course.