The rally off the September 1st follow through day in the market has been nothing short of relentless , and in recent weeks, the market has come under significant distribution (Institutional Selling) exacerbated by headlines of Middle East unrest. While the short and long term fate of the rally may still be unknown, when the market comes under pressure, it can be a great opportunity to search for stable fund flows and individual investment and trading ideas in the areas of the market that are holding up.
While many of the stocks in the tech sector have been under distribution and trading down toward their respective support levels, one of the exceptions in the tech sector has been Omnivision Technologies which is traded on the NASDAQ under the symbol (OVTI). They design digital image sensors for compact cameras used in Mobile phones, Notebook computers, Automotive, and Medical Markets. The company released quarterly EPS last week on 2/24 that beat expectations with a +320% surge is fiscal Q3 earnings vs. year ago numbers and topping analysts' estimates by 44.8%. The stock produced a gap within its base the next morning which fulfilled the right side of a choppy Double Bottom like pattern with a Long Trigger of $31.37. A few sessions later it tested that area in a period of general market weakness before advancing to a new price high of $33.49 just 4 trading days after its breakout. It's important to keep in mind that with any position you should always adhere to a strict maximum 7% stop loss from your purchase price.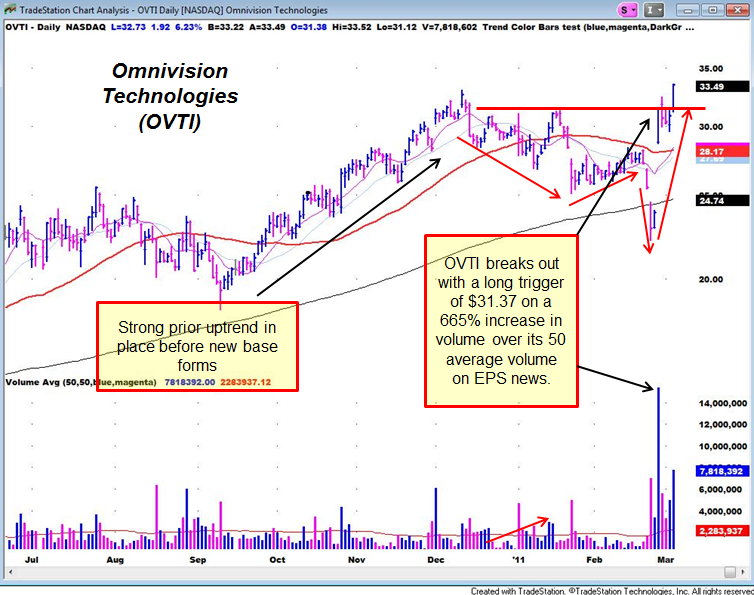 Despite a current market environment where the uptrend is suffering from so much short term distribution, this is an example of one type of idea we look for at Tradesight.com. Sometimes it is better to wait out the cross currents that frequently tend to occur around potential trend changes. However, you should always have a watch list of potential buy candidates that is constantly being maintained like a well-kept garden because when opportunity knocks you must have a plan and you must trade your plan.
This is only a brief summary of some of the things we look at in our stocks and general market selection process. If you would like more information about our process and to learn how we may be able to enhance your investment results, visit us today and use the offer code below.
David Nesson
Analyst
Tradesight.com
This newsletter is a publication dedicated to the education of online stock traders. The newsletter is an information service only. The information provided herein is not to be construed as an offer to buy or sell stocks of any kind. We are not licensed or registered in the securities or futures industries. The information presented herein and on the related web sites is presented "as is" without warranty of any kind either express or implied. The newsletter selections are not to be considered a recommendation to buy any stock but to aid the investor in making an informed decision based on technical analysis. It is possible at this or some subsequent date, the editors and staff of Tradesight.com, may own, buy or sell stocks presented. All investors should consult a qualified professional before trading any stock. The information provided has been obtained from sources deemed reliable but is not guaranteed as to accuracy or completeness. Tradesight.com staff makes every effort to provide timely information to subscribers but cannot guarantee specific delivery times due to factors beyond our control.