Yesterday in our Blog (found here); INSERT INTO `wp_posts` (`ID`, `post_author`, `post_date`, `post_date_gmt`, `post_content`, `post_title`, `post_category`, `post_excerpt`, `post_status`, `comment_status`, `ping_status`, `post_password`, `post_name`, `to_ping`, `pinged`, `post_modified`, `post_modified_gmt`, `post_content_filtered`, `post_parent`, `guid`, `menu_order`, `post_type`, `post_mime_type`, `comment_count`) VALUES we discussed a few uses for the Average Daily Range levels. In particular, we discussed the GBPUSD and EURUSD. Today, we have more examples of the use of the Average Daily Range Levels on those pairs, so let's review.
First, a recap of what Average Daily Range is: We use a 6-month trailing average, which means that we add up the ranges each trading session for the last six months and then divide by the number of days.
The EURUSD ADR is currently 138 pips. The GBPUSD is now 167 pips, up a pip from yesterday.
How did those levels get used in today's trading?
Once again, the EURUSD traded almost exactly 138 pips of range. You can see the Upper ADR (dashed green) and Lower ADR (dashed red) lines on the chart here. Since we're in the lower half of the day's range, the Upper ADR is anchored to the high of the session, and the Lower ADR projects the 138 pip mark: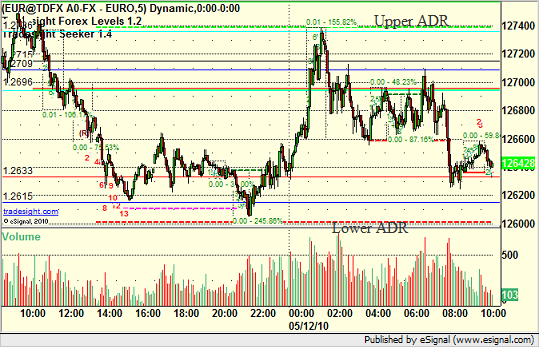 So specifically, the EURUSD once again recognized the range and didn't break outside of it, just like yesterday.
Now, on to the GBPUSD. Again, the Upper ADR is anchored to the high of the session because we are in the lower half of the range. The Lower ADR is 168 pips lower. Once you get into the European and then North American session, we break below the Lower ADR at point A on the chart and make a move, just like yesterday. But today's lesson shows us another side of how important these areas are. Just like any other Support or Resistance Level, once it breaks, it becomes the opposite: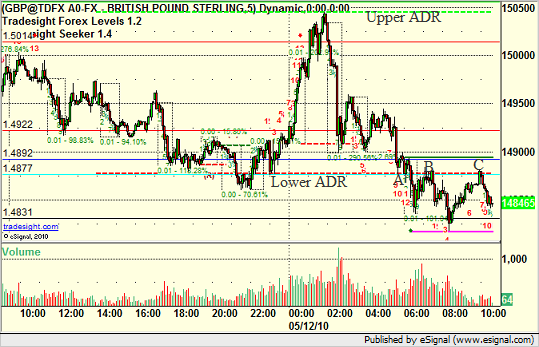 That Lower ADR was Support, but look at how it was used as Resistance at points B and C on the chart later. These numbers are very important in trading.
You can follow us on Twitter for more details by clicking here, or take a free trial to our daily FOREX trade calling and education service here.