Welcome to the new Tradesight 4.0 website. This is the first Tradesight Plus Blog post.
This post will not go up every day, but it will always go up over the weekends and likely other days during the week. It is meant to exist when we have found stocks via our scans with daily chart picks. Beyond that, we will give you commentary via YouTube previews as usual, and then Rich's pre-market comments, and then calls via the Twitter feed. You will get a notification whenever any of these items are posted to the website:
This Tradesight Plus blog (with new stock picks) (that's this)
The Market Recap report (which should be 5 times a week)
Futures Levels
Forex Levels
All of these items can be found under your Tradesight Plus menu. Old reports for Stocks, Futures, and Forex will be found under the Archives menu (you will have to enter dates and then use the Previous and Next buttons).
In terms of this week, the Market Preview for the week is posted to YouTube and the Twitter feed. Make sure you listen as it sets up what we are looking at. Futures are currently gapping up and the US Dollar is heading down as I write this.
For Stock Picks, two long ideas for Tuesday.
COLL long over 24.38: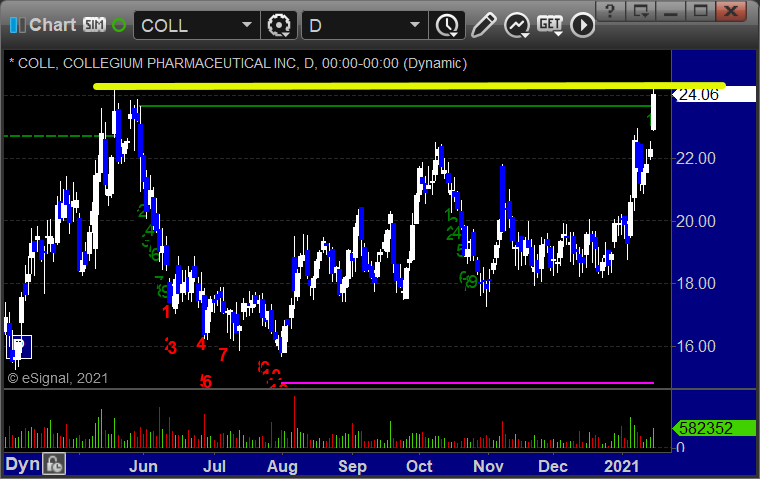 IDYA long over 18.12: