Two stop outs and a winner so almost a wash to close out the week and almost the quarter and year (one more session of calls Sunday).
As usual on the Sunday report, we will look at the action from Thursday night/Friday, then look at the daily charts heading into the new week, and then glance at the US Dollar Index.
The schedule will be the same this week as last. Levels and calls Sunday, although low expectations to close out the year unless the Fiscal Cliff is resolved. No Levels or calls Monday as most Forex brokers are closed from rollover to rollover Monday to Tuesday. New Levels and calls Tuesday, Wednesday, and Thursday to start the year.
As we do every year, there will be a lengthy end of year report posted recapping the markets for the year (stocks, futures, and forex).
Here's a look at the US Dollar Index intraday with our market directional lines: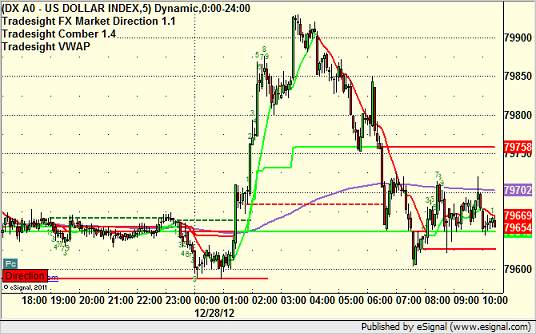 New calls and Chat tonight after 5 pm EST when the new levels come out after global rollover.