Winner and losers to wrap up the week and month here. Here's a look at the US Dollar Index intraday with our market directional tools: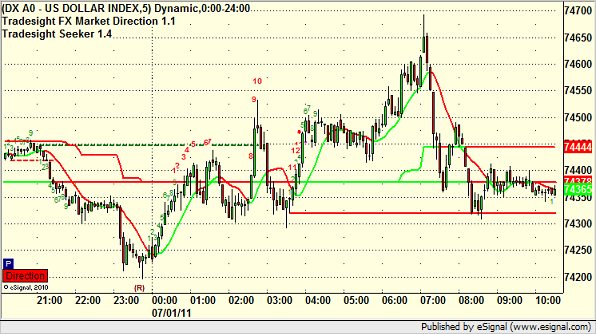 See GBPUSD below for recap of calls. With the Fourth of July Holiday here in the US on Monday, there will be no Levels or calls Sunday and no report on Monday. Levels and calls will resume Monday after 5 pm EST. Have a great weekend.
The June summary of trades will be posted to the Blog today.
GBPUSD:
Triggered short at A (early, half size) and stopped. Triggered long at B and stopped. Triggered short at C, hit 50 pips for first target at D, stopped second half at E. Triggered long at F and did nothing, closed even at G, no end of week bank closeout move: