Typical overnight ahead of the NFP data with no real action. That's why we use half size. Nice winner after that for normal size. See GBPUSD below for all of it.
As usual on the Sunday report, we'll take a look at the action from Thursday night/Friday, then look at the daily charts heading into the new week, and then glance at the US Dollar Index.
Here's the Index intraday from Thursday night/Friday with our market directional lines. Note that the key point was the change in the trend at A when two lines went green: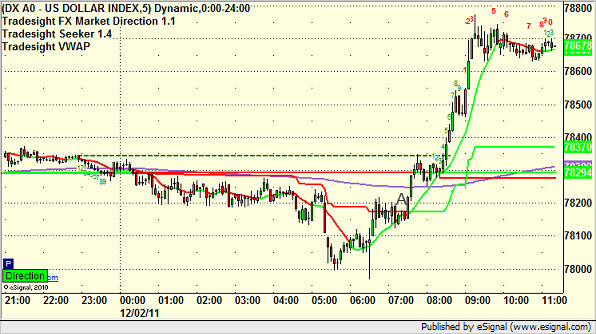 New calls and Chat Sunday as we wind down the year.
GBPUSD:
Triggered short at A and stopped. Triggered short at B and stopped ahead of the NFP data. Both of those were to be half size ahead of the data. Triggered short at C, hit first target at D, closed final at E after hitting average daily range line with no time left for 70 pips: