Every night, we call two primary trades. Last week, we were 5 for 6, although none of the trades really extended out to big winners as the market was narrowly-contained. We started Sunday night with a winner, but Monday night was much better. Unfortunately, the long triggered completely at A and stopped, no chance to work, so that cost 25 pips.
However, the short triggered at B, hit first target at C, and I'm currently holding the stop at D for at least an 80 pip winner, but we are more like 150 pips in the money at the moment: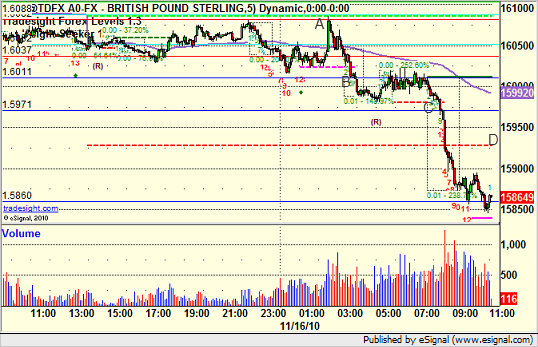 Our system is designed to try to keep half of these positions on when they occur. Note that in the short-term time frame, we had a 13-bar buy signal at the S2 level at the low of the session, but that doesn't mean we can't head lower tonight, and we're going for a multi-hundred-pip winner.